Seven researchers from across U of T's Faculty of Applied Science & Engineering have received significant federal support for their research with new or renewed Canada Research Chairs. Among the group of seven are Professors Cathy Chin and Elodie Passeport.

Ya-Huei Cathy Chin (ChemE), Canada Research Chair in Advanced Catalysis for Sustainable Chemistry (Tier 2, new)
Chin and her team discover materials that enable new chemistry for the synthesis of sustainable fuels and chemicals. The multidisciplinary team increases the value of biogas, natural gas, and biomass through catalytic transformation, converting them into fine chemicals and liquid fuels.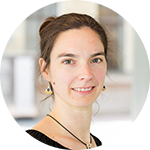 Elodie Passeport (ChemE, CivE), Canada Research Chair in Environmental Engineering and Stable Isotopes (Tier 2, new)
Using water samples collected from the field or laboratory experiments, Passeport and her team use stable isotope analysis to trace the path and eventual fate of environmental contaminants. They also build and test innovative water treatment systems that could eliminate harmful substances from the environment to protect water resources.
To learn more about the five other professors, click here.