Internships are one of the many ways U of T Engineering maintains strong relationships with its numerous industry partners. Currently, a record 782 undergraduate students are spending a year or more working with companies, governments or research institutions around the world as part of the Professional Experience Year (PEY) program. The optional paid internship program is the largest of its kind in Canada.
While PEY is more popular than ever, it is by no means the only internship program at U of T Engineering. The Engineering Summer Internship (eSIP) Program helps undergraduate students access paid work placements during the four months between semesters. For graduate students, the Master of Health Sciences in Clinical Engineering includes a 12-month internship with a hospital or health-care technology company. MEng students can also arrange internships through the University of Toronto Institute for Multidisciplinary Design and Innovation (UT-IMDI). Additional funding for internships at the graduate level is provided by organizations like Mitacs.
Two ChemE students who recently completed internships include:
Oyinkansola Romiluyi (ChemE 1T6)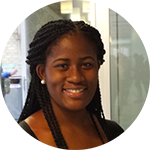 The culmination of Romiluyi's placement at the Calgary office of oil and gas company ConocoPhillips was a 25-minute technical presentation to senior managers. Afterward, her supervisor and mentor told her how impressed the panel had been by her delivery. "That comment made my whole day, week, and 16 months of internship."
Romiluyi says that one of the most important parts of her job was communication, something she felt well prepared for as a result of her U of T education, especially her teamwork and group project experiences. "The opportunities I had throughout my undergrad to improve how I wrote, spoke, listened and presented are too many to count," she says. She worked as an operations engineering intern for a team managing a number of production sites, ensuring that the company produced oil and gas safely, economically, sustainably and in compliance with regulations.
Romiluyi wants to continue working in the energy field, but is not sure yet whether her future lies in oil and gas, nuclear power or renewables. She is very much motivated by her PEY experience. "The internship showed me the pure joy of getting to work alongside brilliant, driven and creative people on projects that yield measurable impact," she says. "I not only grew in knowledge and skill but in my confidence and professionalism as a chemical engineer-to-be."
Amanda Nowicki (ChemE 1T6)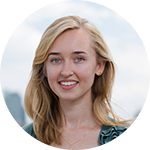 An avid camper, skier and hiker, Nowicki knew she wanted to use her expertise in chemical engineering to mitigate environmentally damaging activities. She found the perfect fit at the Ontario Ministry of the Environment and Climate Change (MOECC).
"It was a fantastic experience and incredibly valuable," she says. "I performed the same level of work as my colleagues who were professional engineers (under their supervision of course) which was extremely rewarding."
Making extensive use of her coursework in environmental chemistry and fluid mechanics, Nowicki reviewed proposals for projects ranging from new buildings to waste treatment plants to ensure they complied with environmental regulations.
Nowicki plans to continue working in environmental engineering, and credits her internship with pointing her toward her ideal career path. "Working in this position for more than a year allowed me to see how much I had grown, personally and professionally," she says. "I am now confident that I have the necessary skills, knowledge and motivation to succeed."