Story by Tyler Irving, U of T Engineering News
Daniel Deza (Year 1 EngSci) always knew he was going to have friends at U of T Engineering — starting with his older brothers Arnaud (Year 3 EngSci) and Gabriel (Year 4 EngSci).
What he didn't anticipate is just how close the three of them were going to get this semester.
All three Deza brothers are currently living — and studying — together at their parents' house in Hamilton, Ont. Their older sister Anna (EngSci 2T0) graduated last spring and is now pursuing a PhD at the University of California Berkeley, while younger brother Emmanuel is also living at home while attending high school.
"My siblings told me lots of stories about what first year would be like, but nothing prepared me for this," says Daniel.
Like all U of T Engineering students this semester, Daniel and his brothers have had to adapt to a challenging and unusual Fall term. In doing so, he and others have found new strategies to manage their studying and remote learning.
"Online learning is demanding and rather stressful, but having siblings in the same program is certainly a very fortunate situation to be in," says Gabriel, who also mentors other first- and second-year students in Engineering Science online through the NSight Program.
"My brothers ask me about course content and course delivery, and we discuss funny stories about the teachers we have in common."
Gabriel says he finds online learning easier than in-person classes, as they provide more flexibility in terms of when to watch the pre-recorded lectures. But Arnaud takes a different view.
"Compared to other semesters I feel very tired after a full day of Zoom lectures at my desk staring at my laptop screen for long periods of time," he says. "One way to cope is to go on walks almost every day, either alone or with my family. I think this is essential even on the busy days, just to clear my mind and get some fresh air."
---
First-year student Michael Simunec (TrackOne) developed his own strategy for online learning via a meeting early in the semester with U of T Engineering Learning Strategist Shahad Abdulnour.
"We produced a new schedule for managing time, work and classes that suit my learning style," he says. "Though I only met with her once, the strategy we laid out has been extremely helpful for me."
Simunec grew up in Toronto, but has lived abroad in Rome, Italy for the past eight years. He says he chose to live in residence at Trinity College in part because it made his university experience feel more real.
"It's tough when you can't see your classmates, and or talk to them after class as you normally would," he says. "Still, there are a few people around on campus. We still have to stay distant and wear masks in common areas, but the fact that I'm around other people in a similar position, including a few people in engineering, has helped."
Outside of class, Simunec is doing what he can to get involved in co-curricular activities. When public health regulations allowed, he was able to join in pick-up games of soccer, wearing a mask of course. He is also looking into joining the U of T Chapter of Engineers Without Borders.
"I think they've done a good job with the transition to online," he says. "All the information you need is available and there are people who can answer your questions. I'm hoping to get more involved as I move into upper years."
---
Engineers Without Borders is not the only student club that is keeping its activities going this year. Samuel Looper (Year 4 EngSci) is the Executive Director of the University of Toronto Aerospace Team, and says the team is running its full slate of design projects as best as it can under the circumstances.
"We already had good systems for remote design collaboration," he says. "We use Google Drive for file sharing, Slack for messaging, and other tools for task tracking, meetings and socials. There are some timeline complications due to the lack of in-person manufacturing, but most of the early stages can be done online."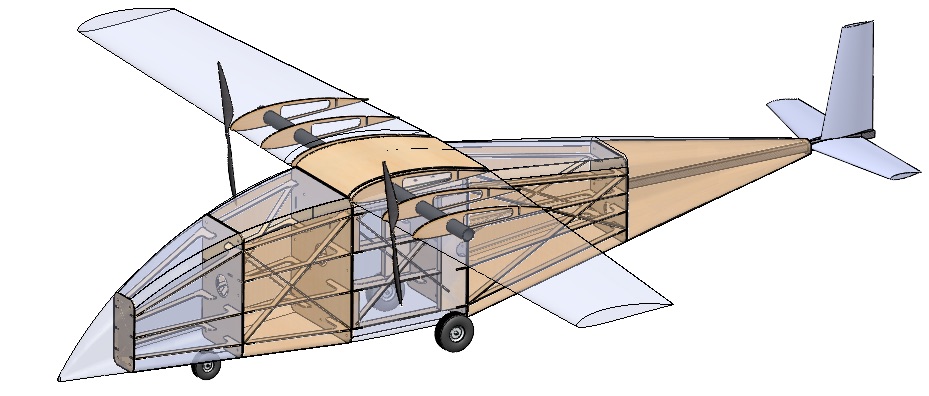 Looper says UTAT has also been able to keep up its outreach and professional development activities, including the Women of Aerospace speaker series and various STEM education events in partnership with Hi-Skule and other community organizations
"We've definitely had challenges this semester, particularly engaging with new students," says Looper. "Nonetheless, we are on track to retain a record number of students into next semester, which points to the fact that there is definitely still a need for extracurriculars and student community events."
---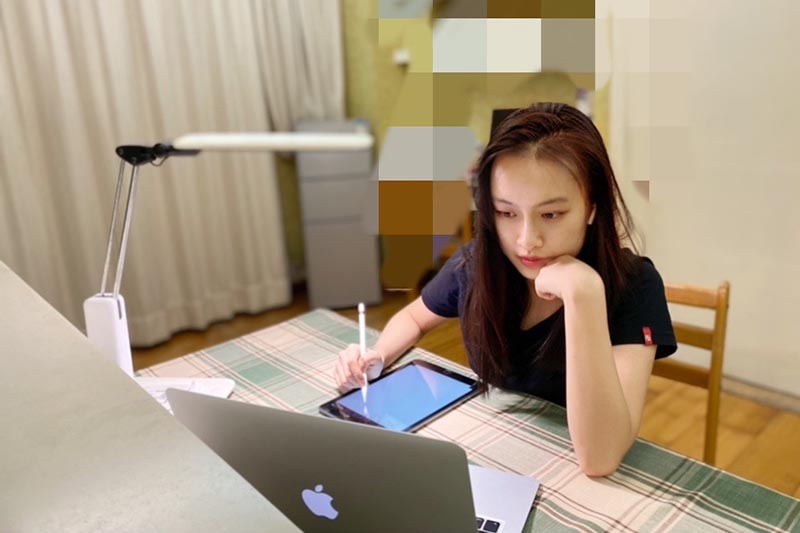 Amelie Wang (Year 2 ECE) is studying from Shantou, in China's Guangdong region. She says that being in a time zone that is 12 hours ahead of Toronto's hasn't affected her as much as one might think.
"Some of my friends still follow Toronto's time zone, but I really can't do that as sleeping is so important for me," she says. "With the international timetable, the classes are mostly in the daytime, and all courses are recorded, so I can always watch the recordings if I do not want to stay up late or wake up early."
Wang says that precisely because of this flexibility, online learning requires more self-control than in-person.
"It was really hard for me to follow the schedule in the beginning, but gradually I got used to it," she says. "The key was to keep track of every day's tasks and avoid procrastination."
Outside of classes, Wang is continuing to volunteer as an ECE ambassador, including participating as a student panelist and answering live questions from prospective students as part of U of T Engineering's Fall Campus Day recruitment event. She is circumspect about the impact of this semester on her overall degree program.
"As a second-year student, the pandemic hasn't affected my journey much so far," she says. "What I am focused on right now is getting a good internship for the coming summer, hopefully one where I can actually work with people in person."
---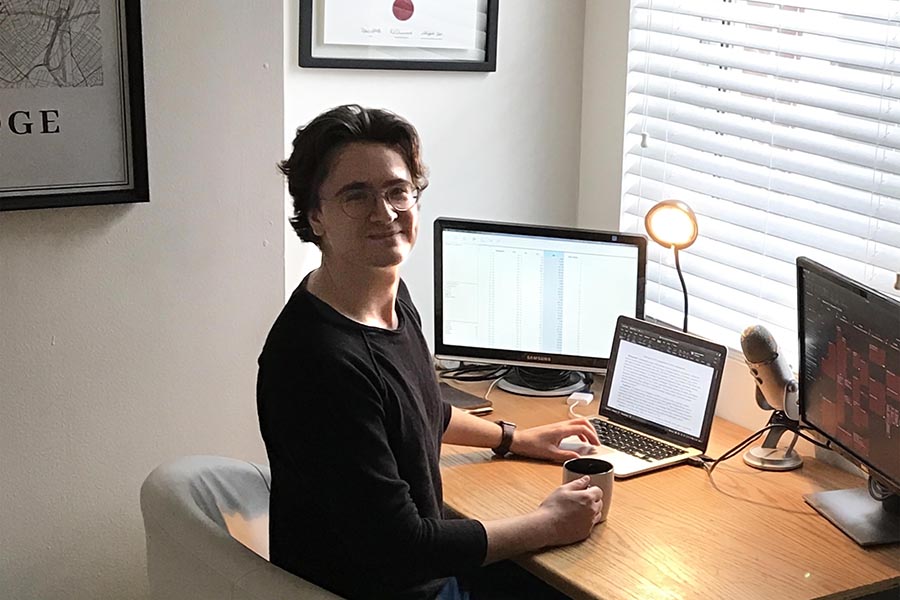 It's not just undergraduate students who have been dealing with an unprecedented semester. Julien Couture-Senécal (EngSci 2T0, BME PhD candidate) started his doctoral program in September.
Although labs are open, booking time in them can be difficult due to careful restrictions on how many people are allowed to be in them at any given time. Instead, Couture-Senécal says he's been using the extra time to complete course requirements and enhance his skills in coding and statistical experimental design.
He has also been attending a lot of online seminars offered by U of T and other institutions, such as the Medicine By Design Global Speaker Series or the Harvard University Bioengineering Seminar Series.
"You don't get free pizza or sandwiches as you might on campus, but they still quench my thirst for knowledge," he says.
Couture-Senécal says that hardest change has been the lack of human interaction.
"Research shows that graduate students are more likely to suffer from anxiety and depression, so connecting with my peers remotely has been helpful to keep the stress levels low," he says.
"My lab has organised weekly virtual coffee chats to take a breather and catch up. I took the down-time as an opportunity to reflect on my unhealthy pre-pandemic habits. I've also been learning about how to close the stress loop and discovering that I am more of an emotional being than I realized."
Despite the challenges, Couture-Senécal still sees plenty of opportunities, and is optimistic that he can still make the most of this academic year.
"I am a firm believer that this moment of reflection will help change the graduate school experience for the better," he says.