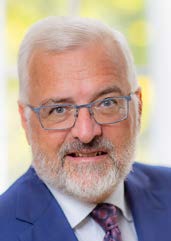 Daryl Wilson (ChemE 8T2) has been elected as 2021 Fellows of the Canadian Academy of Engineering (CAE). The CAE is a national institution through which Canada's most distinguished and experienced engineers provide strategic advice on matters of critical importance to Canada.
A pioneer in the application of hydrogen for clean energy, Daryl Wilson currently serves as the inaugural Executive Director of the international Hydrogen Council. From 2006–2019 he was President and CEO of Hydrogenics, a global provider of advanced hydrogen solutions, where he spearheaded a number of industry firsts. Wilson has also held senior leadership positions at Royal Group Technologies, Zenon Environmental, Toyota and Dofasco, where his teams garnered awards for innovation, quality and productivity. Wilson has served on the Canadian National Economic Strategy Table for Clean Technology and as a certified corporate director on the boards of several public, private and not for profit organizations. 
U of T Engineering Professors Konstantinos Plataniotis (ECE) and Elvino Sousa (ECE), and fellow alumni James Burpee (MechE 7T7), Mark Diederichs (GeoE 8T7, MASc 9T0), David Erickson (MechE MASc 0T1, PhD 0T4) were also elected this year.
"The election of these outstanding faculty and alumni to the Academy is tremendous recognition of their impact as engineering innovators, educators and leaders throughout Canada and globally," said U of T Engineering Dean Christopher Yip. "On behalf of the Faculty, my warmest congratulations to all our new CAE Fellows."