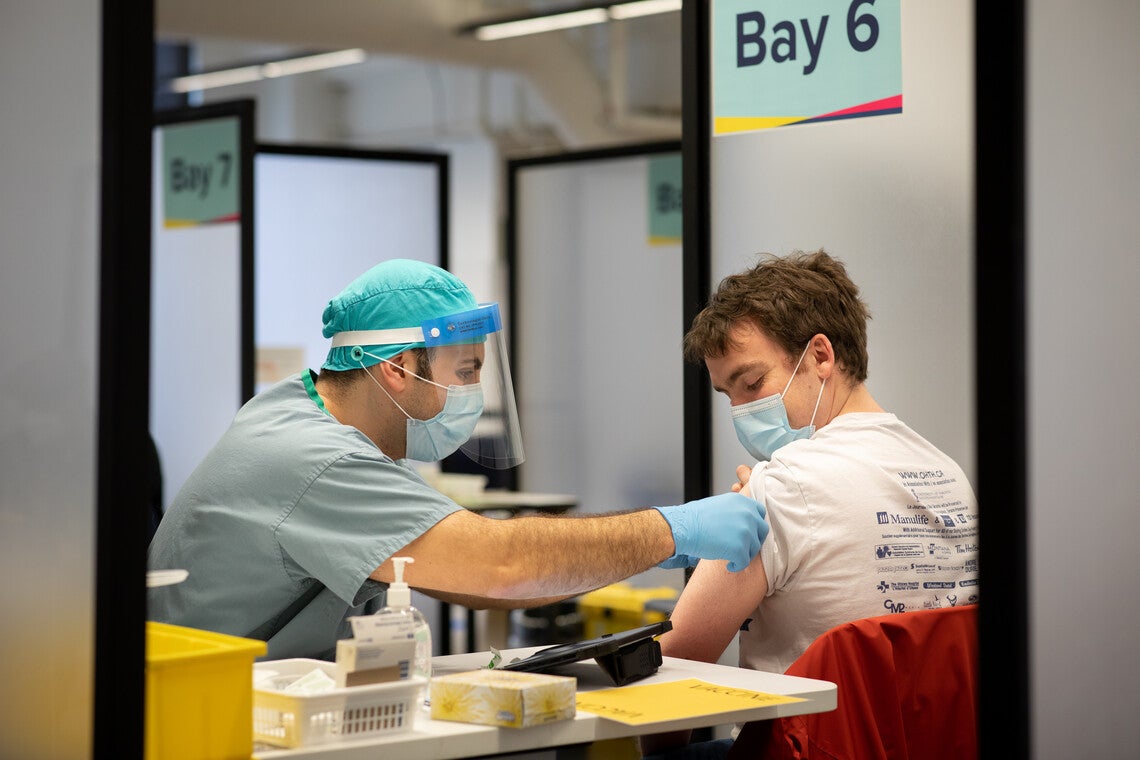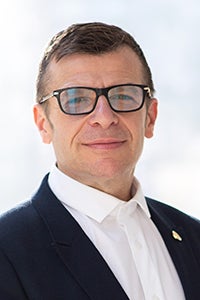 As it prepares for a safe return to campus this fall, the University of Toronto has announced a vaccination requirement and implemented a comprehensive 12-step plan for students, staff, faculty and librarians that is informed by the latest public health guidance.
U of T will require all those intending to be on campus be fully vaccinated – as vaccines have proven to be one of the most effective ways to minimize the dangers of COVID-19.
"The public health evidence is clear: Vaccination provides the best protection from COVID-19," says Professor Salvatore Spadafora, special adviser to U of T's president on COVID-19 and senior adviser to the dean of the Temerty Faculty of Medicine.
Students living in residence and community members engaging in certain activities are required to be vaccinated. In addition, anyone visiting U of T's three campuses is required to first declare their vaccination status, with those who answer "no" or "prefer not to say" needing to take rapid-screening tests twice a week and produce a negative result within 72 hours of heading to campus, among other public health measures.
U of T News recently caught up with Spadafora to ask him about U of T's vaccination requirement.
---
Will vaccines be required in the fall?
Yes. The university has been unequivocal about COVID-19 vaccines. Any U of T community member who comes to campus in the fall will be required to self-declare their vaccination status before they can participate in in-person activities. If, for some reason, an individual is not able to be vaccinated, they will need to participate in the university's rapid screening program. They will also have to take additional public health measures.
U of T is requiring proof of vaccination for all students living in residence and all students, faculty, staff and librarians participating in specific activities such as music performance, varsity athletics and certain educational placements.
All members of our community should become vaccinated as soon as possible. We have hosted vaccination clinics on all three of our campuses and continue to post current vaccination clinic information on our UTogether website.  We are committed to supporting those who need assistance getting access to vaccination. The public health evidence is clear: Vaccination provides the best protection from COVID-19.
How does U of T's approach compare to other universities?
U of T's requirement to declare vaccination status before coming on campus was first announced last month. Other universities are following the vaccination framework that U of T has developed and implemented.
We are following the example of partner organizations such as the University Health Network (UHN).
What if community members can't be vaccinated for personal or health reasons?
We understand that there may be specific and personal circumstances that prevent someone from being vaccinated. There are exemptions allowed on religious or medical grounds. All members of the U of T community will need to attest to their vaccination status. Those who are not vaccinated need to participate in the university's rapid screening program, use at-home kits twice weekly and have a negative result 72 hours before coming to campus. They may also have additional public health measures required of them.
Should there be government-mandated policies for post-secondary institutions?
The Council of Ontario Universities (COU) and Colleges Ontario have jointly called for a province-wide policy that requires the vaccination of post-secondary students, staff and faculty. They cite growing concerns about the Delta and other variants of COVID-19, and argue that a co-ordinated and consistent province-wide policy that provides universal regulations for the post-secondary sector would help to ensure optimal public health protection for all.
U of T is a member of the Council of Ontario Universities and agrees that this would be a welcome development. A provincial policy would help to remove confusion and ambiguity about the requirements for everyone in the post-secondary sector. We are also actively supporting advocacy by COU and the advocacy led by provincial and regional groups such as the Toronto Region Board of Trade, who are calling for a COVID-19 Safe Pass.
In the absence of a province-wide policy, how did U of T develop its approach?
In the absence of a government mandate, we developed our policies using the tools available to us, including the advice of local public health authorities. Both the Region of Peel and Toronto Public Health endorsed our plan and quoted from their previous letters about how they endorse any policy that enhances levels of vaccination on campus.
We have also drawn deeply on U of T's own public health experts who are leaders in their field.
Where should U of T community members go if they have questions?
U of T has produced several FAQs to assist students, staff, faculty and librarians navigate a safe return to campus in the fall, including our vaccination policies. Divisions and faculties are also issuing COVID safety guidelines that are specific to their research and teaching activities.
I strongly encourage students, faculty, staff and librarians to visit the UTogether page to find the latest updates.